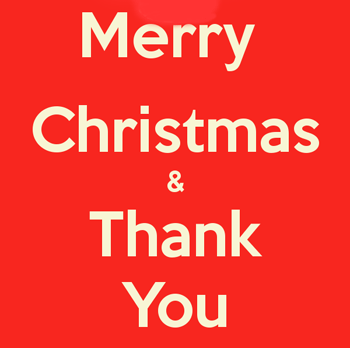 For Supporting The 27th Annual
Christmas With The Vets Show & Fundraiser
Socks - Gloves - Beenie Hats - Christmas Food & Treats - Door Prizes
Vets Christmas Cash - Bingo Cash - Hygiene Items
Shirts & Thermal Wear - New Board Games - Diddy Bags
New Electronic Hand Held Games Games
2016 Vets Trips Events/Restaurant Outings/Movie Nites & More
Lap Robes For Our Wheel Chair Vets - And So Much More


Brian & Susan (Two Very Special Friends Supporting Our Vets)
Vince Ehley Memorial Tribute - 2nd Annual Villard Ave - McGovern Park Reunion
Jordan Orlowski - WI. Harley Davidson - UAW Local 833 Veterans Committee
Bill & Robin Giles - VFW Post 2874 - Slice Custom Cakes - Harley-Davidson Museum -
Yvonne Clark - Joe Campbell - Don & Jean Kordus - John Sibson - Dennis Bohen
Laborers Intl. Union U.S.A. Local 113 - Bob/Kathy Hawkins - Mike & Judy Sherwin

Johnson Controls Inc. (Veterans Engagement Team) - VVA Chapter 767 Racine
Roman Milewski Amvets Post 4 - Andrea & Kevin Ferestad - Gail Olsen - Nancy Plier
Denise Klatt/Friends - George & Lori Klingspohn - Judy Colbert - Betty Rhone
Mark Gaeth - Tom & Meg Ciurlik - Wayne & Ernestine Miller - Jill Lindberg
UAW Local 469 Master Lock Retirees Club - Dave & Mary Vander Hayden - Mike & Joan Backes
Peter & Georgia Koterba - West Side Soldiers Aid Society - Bev Thielen

Mary Liebsch - Carolyn Pospychala - Brewery Workers UAW Local 9
William & Jane Pope - Kevin & Cindy Connell - Diane DeLeon - "Jack Of All Trades"
John & Deb Osner - Nina Dentici - Richard Marcellius Jr. - Gary & Karen Hansen
American Legion Auxiliary Mukwonago Unit 375 - Barbara Nate - Gerald Monti
American Legion Mukwonago Post 375 - Gary & Leslie Dahms

David & Jean Sutton - Ron & Christine Ciesielski - R.Devon Evenstone
Sandra Hopfensperger - VVA Chapter 324 - Elks National Vets Service
John & Dolores Broadway - Bonnie Liljestran - Kiwanis Club Of Wauwatosa
Shirley Lohman - Laurie Garvens - Georgia Bump - John Palmert
Robin Moore(PRP Wine International Inc.) - Fleet Reserve Assoc. Branch 14

Sandy Balzer - Kate Dodson - Barb Grycowski - Kathy Behling - Mary Zahn
Debbie/Bob Williams/Starbucks - Dawn/Buz Anderson - Sue Skiba
Natalie Nowak/WOCA - Lakeview Vapor - Eugene & Patricia Daun
David & Delorus Vind - Neville-Dunn American Legion Post 489
Marcus Center For The Performing Arts - Laborers Local 113 - Diane Romboy
Karl & Kazue Sandvivk - Sharon Sinklair - Julie Spangler - Deborah Bock

Jennifer Pageldorf - Darrin & Kathleen Sullivan - "The Irish Cottage"
Denise Platt - Jeff & Mary Weyrum - Mike & Helen Magulski
Dave & Debra Ruether - Krankys - Dawn Wheaton - Denise Wheaton
Michael Wheaton - Mikey, Chloee, Billy Wheaton - Harriett Perez
Gonzo Perez - Healter Talbert - Plaza Theater - Brett Johnstone - Russell & Joyce Reber
Heidi Domanik & Robert Anthony Wholesale Jewelers - Robert & Charlene Muren

Keith & Judith Johnstone - Don & Jean Kordus - John & Andi Fleischman
Macy & Raven & Ms. Lamb MHS - Jeff & Judith Kosloske - DAV Chapter 44
American Legion Bell Telephone Post 427 - J.M. Weniger - Marge Gabriel
Reggies Amusements - Heidi Dominic - Patrick Schultz - Gary & Leslie Dahms
Barry Wehmiller PCMC & UAW Local 1102 Vets Committee - James Friess
VFW Ladies Auxiliary Post 9156 - American Legion Riders Assoc. Of WI. District 6

Triumph Sports USA - Jim Baures - Patrick & Diane Romero - Joanne Fink
Gunther & Sharon Bahlaj - Thank You Scott Advertising Agency Inc. - Jim & Sheryl Upp
American Postal Workers Union Local 0003 - Catholic Financial Life - Margot Geyer
Communication Workers America Local 4603 RMO - Paula Lund & Family
Paul & Melissa Przybyslawski - Marge Gabriel - James & Sandra Minor
Wallace & Vroukje Hepkema - Dave & Kathleen Herrewig -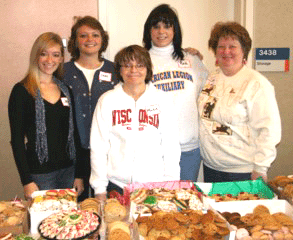 THANKS DELAFIELD LEGION FAMILY
DELAFIELD AMERICAN LEGION AUXILIARY UNIT 196

Christmas Cards For The 2015 Vets Christmas Show
First Immanuel Lutheran School Kids
Thank You

Everyone will receive a Personal Thank You Letter after the Vets Christmas show.
It will take Jeff a few weeks to get all the Thank You's sent out.

SUPPORTING THE 2016 VETS CHRISTMAS SHOW & FUNDRAISER
AND DO NOT SEE YOUR NAME OR ORGANIZATION LISTED BELOW
PLEASE EMAIL JEFF AND LET HIM KNOW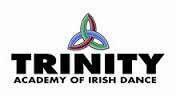 TRINITY FAMILY
Mark / Maureen Kenfield - Sarah Russell (Coord)
Trinity Dancers and Family Members
Trinity Family Contributions Collection
Third Ward Studio - Waukesha Studio - Grafton Studio
Thank You Both For Performing For Our Hospitalized Veterans.
Performing At The 2015 Christmas Show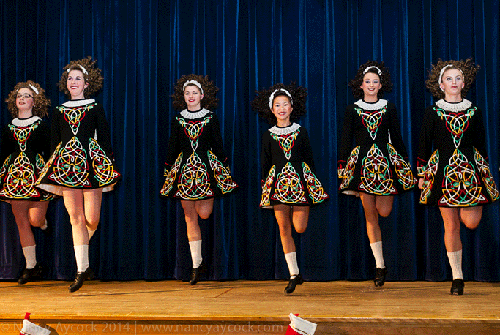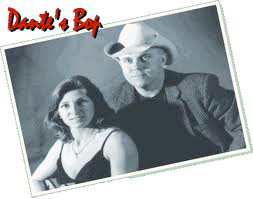 Jerry / Nora
Thank You Both For Performing For Our Hospitalized Veterans.
I Truly Appreciate Your Support
"Doc"
Performing At The 2015 Christmas Show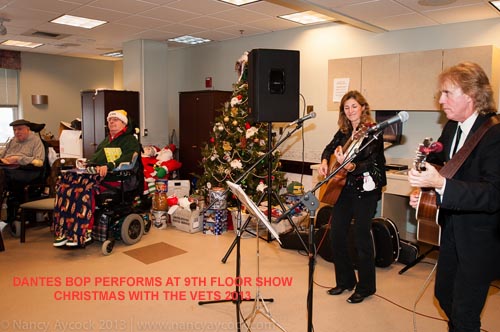 NATHAN HALE HIGH SCHOOL CHOIRS
Dressed in Medieval/Renaissance style costumes
singing Christmas carols and Holiday songs for our Veterans.
Performing At The 2015 Christmas Show

CHRISTMAS WITH THE VETS - MORNING BLEND 2015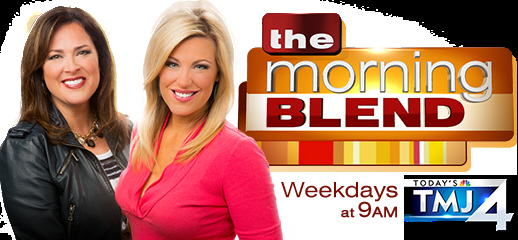 Special Thanks to The Morning Blend - Molly - Tiffany - Kim - Katie and the
entire staff, for caring and supporting our Veterans & the Christmas Show.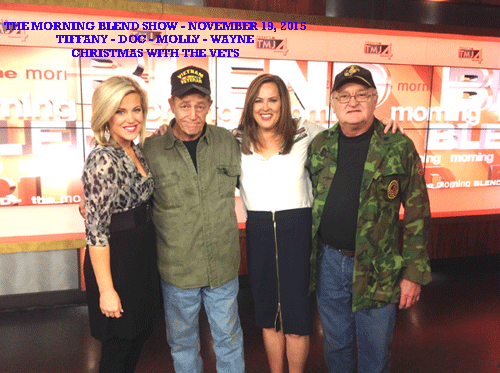 BEEF JERKY OUTLET STORE
Supporting Our Veterans
2015 Christmas Show


ALWAYS 10% DISCOUNT
TO OUR VETERANS AND MILITARY

THANKS LAKE COUNTRY CANDIES
THE VETS REALLY LIKE THEM
2015 CHRISTMAS SHOW

Racine, Wisconsin Bakerys
Supporting the 2015 Christmas Show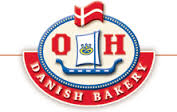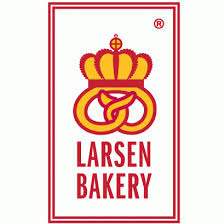 Starbucks
Joann @ Starbucks
Participating Stores
Thank You for all the great Coffee/Treats
Supporting Our Veterans
2015 Christmas Show


Vets Christmas Show
Packer Party Fundraiser
Thanks Phil - Anna - Tommy - Staff
All Those In Attendance
All Who Donated Raffle Items
2015 Christmas Show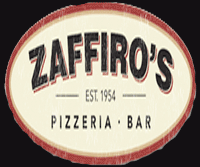 Zaffiros Pizza
Donating and Delivering
all the Pizza's for the
Vets Christmas Show
Thanks Mike & Rose Zaffiro
2015 Christmas Show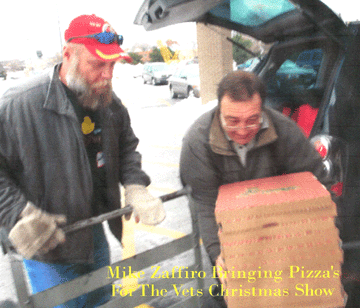 Catalanos Produce Company
Thanks Tony
Fruit For The 2015 Vets Christmas Show

Supporting Our Veterans
Thanks Jay Weber



Shelley / Katie / Judy
Christmas Collection Point
2015
Muskego, WI.
S72 W16484 Janesville Rd
Thank You
Associated Bank Employees
Hales Corners, Wisconsin

Thanks Andrea & Jen
Supporting Our Veterans
Christmas Collection Point
2015
Milwaukee (North Side)
And Towns North
9401 W Brown Deer Rd
Thanks Al Luening & Wigwam
Socks For Our Veterans
At The 2015 Christmas Show


Thanks Saranac Glove Co. &
The Donation Committee
Gloves Go To Our Vets
At The 2015 Christmas Show


Made In Milwaukee
Thank You "Osmanium"
Bags Of Candy For Our 2015 Vets Christmas show.
Supporting The 2015 Vets Christmas show.

Andrea Kubsch &
First Weber Group & Friends
Brookfield, WI.
2015 Christmas Show


Sandy Jaskulski &
Wixon Inc.
St. Francis, WI.
2015 Christmas Show
Supporting The 2015 Vets Christmas Show
Thanks Everyone


Thanks to all the Staff & Customers @ US Bank in Muskego
Supporting the 27th Annual Vets Christmas show.




Thanks to everyone who donated Raffle Baskets, Booze, Silent Auction
Items, bought lots of raffle tickets, and attended the fundraiser.
The Vets Christmasfundraiser was a fantastic success..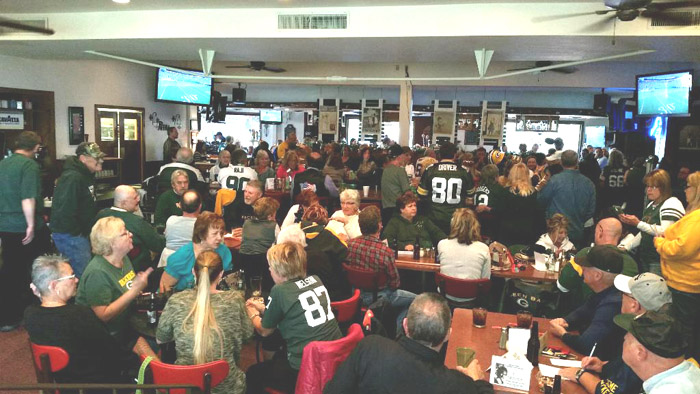 Christmas With The Vets
2nd Annual Fundraiser


26th Annual Vets Christmas Show Video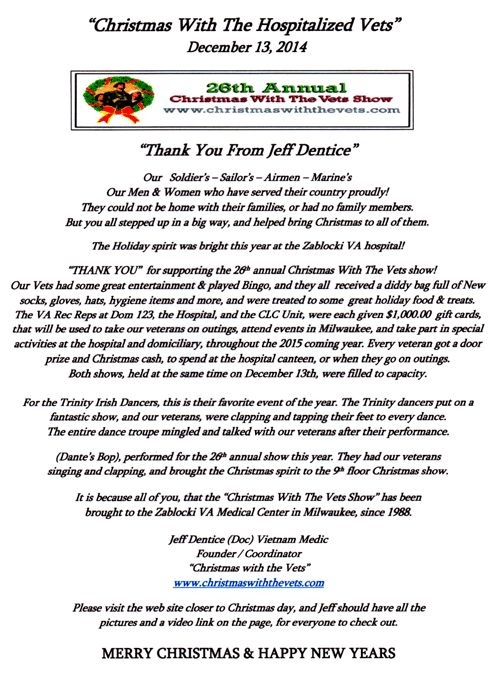 THANK YOU FOR BEING THERE FOR ME
Zablocki VA Staff Helping "Doc" For Many Many Years
Sandi - Courtney - Mike - Mike - Al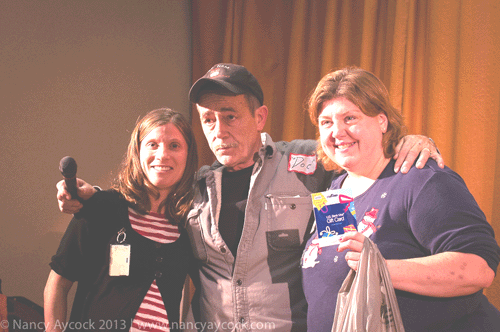 JEFF PRESENTED 3 $1,000 GIFT CARDS AT THE 26TH ANNUAL SHOW
TO SUPPORT THE 2015 ZABLOCKI VA VETERANS EVENTS AND OUTINGS.