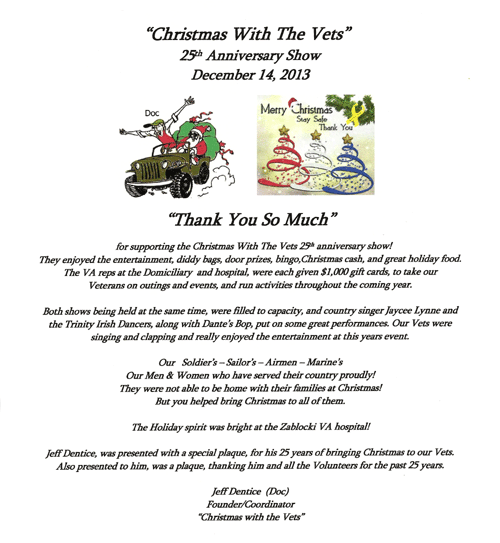 THANK YOU
Two patriotic people in Milwaukee who care about our Veterans - Rolling Thunder WI. Chapter 2
Gail Olsen - John Palmert - "Home Market"/Amy Schreiner - George & Jean Koerneru - James & Sandra Minor
Trinity Irish Dance Families - Dave/Debra Ruether - Nina Dentice - Michael & Jacquelyn Stroik
Diane De Leon - Joanne Fink - Evenstone Agency Inc. - Jean Walser - Marge Gabriel - C Ann Lango
Nada Kleczka - Frank & Sandi Sandor - George & Lori Klingspohn - Jeff & Judith Kosloske
Waukesha Noon Lioness Club - Mark Gaeth - Robert & Carly Braatz - Master Lock Company
Richard & Shirley Bekolay - In Memory Of Tony Sutyak - Jesse Sanchez - Deborah Bock - Kelly Tetting
Keith Johnstone - Tom & Meg Ciurlik - William & Jane Pope - John & Debbie Osner - Linda Wilms
Kevin & Cindy Connell - Liz Semerau - Kathleen Fox - Barbara Nate - Christine Ciesielski
Joe Campbell - Patrick Romero - New To You Kids/Kids Solution LLC - Dennis Bohen - UAW Local 588
Sandra Hopfensperger - Peter & Georgia Koterba - Wayne & Earnestine Miller - Tom Mueller
James Friess - Rodney & Kathleen Hoffman - Robert & Charlene Muren - Sabastian Riccobono
Dan & Penny Draeger - Mary Caliva - Lana Huebner - Diane Piontek - Dave & Dolores Vind
George West & Family - Tim & Rebecca Johnson - Joel Helminger - Dr. Dan Trittin - Sandy@Wixon Spice
Mark & Maureen Kenfield - Mark & Carol Beveridge - Trinity Irish Dancers & Family Members
Kim Plato - Sally Laing - Shannon & Meghan Kehoe - American Legion Lakeshore Lt. A. Pabst Post 474
Kathy Joanas Barr - Rita Zukowski - Betty Kordus - Melanie Kordus - Ed Jensen - Mary Liebsch

Gary & Karen Hansen - Wisconsin UAW Veterans - Ken Walz - James & Barbarann Erdmann
Jeff & Paula Stroud - Mary Traeger - Georgia Bump - Betty Rhone - Karl & Kazue Sandvick
Brian Wachowiak - Shirley Lohman - Nick & Deb Benz - Phil & Mary Dib - Richard Marcellus Jr.
Dave & Kathleen Herrewig - - Mike & Judy Sherwin - Gunther & Sharon Bahlaj - Diane Carey
Suttons Services/Jean Sutton - Peter & Sandra Leydorf - Connie Manke - Carolyn Pospychala
Ken & Joan Pettitt - Anita Morden - Dick & Louise Turzinski - Terry/Ron 703 Club - Verna Schmidt
Elks National Veterans Service - Vietnam Veterans Of America Chapter 767 - Fishing With The Vets
Gary & Debra Cunico - Kevin Mieczkowski /Bethel Baptist Church - Dean & Rosemary Roebken
Rosalind Couture - Jeff & Mary Weyrum - George Lynch MNPR Richard & Nancy Schultz
Jean Walser - John & Dolores Broadway - Personnal Evaluation Inc. - Dennis & Deborah Waller
Edward H. Pahl - Lori Schwager @ Docs On The Fox Bar/Grill - Chris & Kelly Viel - Marge Gabriel
Doug Pitcher & Lisa Schmude - Sue Holcomb - Jill Lindberg - Dan & Lynne Tetzloff - Tim & Vicky Hanson
Kenosha Area Vietnam Veterans - Junker-Ball VFW Post 1865 Kenosha - Daniel Murphy
Painters/Allied Trades Local 781 - Associated Bank Veterans Network - UAW Local 407
MillerCoors Corporate Employees Collection - MillerCoors Ladies - MillerCoors Veterans Group

Eugene & Patricia Daun - Wallace & Vroukje Hepkema - John & Beverly Thielen - Susan Kettula
Milwaukee Disabled American Veterans Chapter 44 - Vietnam Veterans Of America Chapter 324
Perry & Bonnie Liljestrand - Shelby Schurter - Pete Pfaff III - Lisa Migacz - George Banda
Marsha Steadman - Yvonne Clark - Mel Bell - Heidi Domanik - Marcia Bjorkquist & Family
Kobus-Molenda Post 49/Polish Legion of America Vets - Amvets District 2 Wisconsin
Larsens Bakery Racine - O&H Danish Bakery Racine - Sharon Schemberger - Margot Geyer
UAW Local 145 Veterans Committee & Membership - UAW Local 180 Membership & Retirees
Laura Mishefske - Mary Moyer - Suzanne Rawling - Judy Colbert - Lori Tonn & Family
Blue Star Mothers of Southeastern Wisconsin Chapter #2 - Sylvan American Legion Post 44
Gary & Leslie Dahms - Matt Levandowski - Sweeneys College Books/Theresa - Veterans of America MC
C.K. Pier Badger Camp 1 Sons of Union Veterans of the Civil War - Kobus-Molenda - Terry/Ron 703 Club
Ralph Ignatowski Memorial /Amvets Post 60 - Mike & Nancy Libbin American Legion Riders
Fred A. Schaefer VFW Post 1393 Auxilary - Joe & Patricia Razdik - Joanna & Jacek Adamicki
UAW Retired Workers Chapter 438 - Dorothy G. Bauer - Joanne Powers - Mark & Patricia Kamin
Kathy Marus - Schiller-Kulchar-Fohr VFW Post 8343 - Judith Schwartz -Mary Ann McCormick - Nate Pade

Delafield American Legion Post 196 Womens Auxiliary & SAL Squadron Unit 196 - Wisconsin Patriot Guard Riders
CWA Local 4603 RMO Membership & Executive Board - CWA Local 4603 Membership & Executive Board
Shelley Cullen & Katie Orvis @ Edward Jones/Muskego - Mike & JoAnn Greene - Peggy Lindholm
American Legion Mukwonago Post 375 - American Legion Mukwonago Post 375 Auxiliary - Susan Barth Geils
Charles Fidler VFW Post 9469 Womens Auxilliary - Hoeppner-Horn Bros VFW Post 5716 - Dennis & Carolyn Kutz
UAW Local 180 Membership & Retiree's Chapter - American Postal Workers Union / Local 0003 - Jon & Ellen Pawley
American Legion Riders Assoc. of Wisconsin 6th District - WM. F. Ehrlich Auxiliary VFW Post 1391
Neville Dunn American Legion Post 489 - Blue Star Mothers of S/E Wisconsin Chapter #2 - -Jeff & Maggie Krawczyk
American Legion Riders Association of Wisconsin 4th-5th District - Hoeppner-Horn Bros.VFW Post 5716
UAW Local 1102 Veterans Committee & Membership - Milw. Area Union Veterans - Milw. County Labor Council
United Steel Workers Local 1114 - International Longshoremans Assoc. Local 815 - Cecile Lanke - VFW Post 2874
UAW Local 2020 Veterans Committee & Membership - UAW Local 1472 Veterans Committee & Membership
Patient Centered Research of Aurora Health Care and GI Associates, LLC - Michael Hupy - Maureen Mulvane
Dean & Eleanore Alioto - Thomas & Sharon Rakowski - Julie Driscoll & Rashelle Wagner - Millie Rudella
Joseph Miller - Glenn & Sharon Ritz - Ann Farkas - Angela Marshall - Beverly Thielen - Sue Banks - Diane Piontek
Cari Roper - Dorothy Witkowski - Gary Heyel - New Berlin Senior Citizens Club Craft Group/Outreach Committee
Paula Bialk/Laverne Koel@Hales Corners Lutheran Church - Janet Schmeling - Laurie Stewart & Virgie Christopherson
Dousman Transport Co Inc Vets Christmas Collection - American Legion Post 15 Juneau - Chas Mulcahy


Thank You Kayla Seno from Bristol, Wisconsin
I want to let you know that your collection
of hats and gloves went to the Veterans @ the hospital.
They were very happy to have warm items to wear.
I am very proud of what you have done for our Veterans.
You have set a wonderful example for all kids to follow.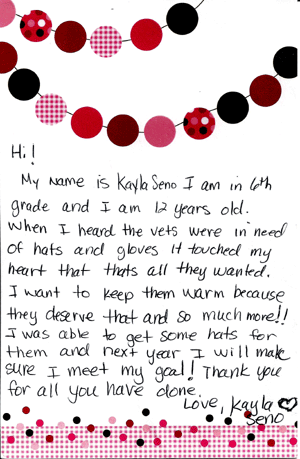 Zablocki VA Staff Helping "Doc" For Many Many Years
Sandi - Courtney - Mike - Mike - Al
Thanks to all the Ladies @ US Bank in Muskego & all the customers
who made contributions for the Vets Christmas show.
Kids of First Immanuel Lutheran School - Cedarburg
Barbara Meyer is a teacher & spearheaded the Vets Christmas Card Project.
Christmas Cards For Our Vets
Ladies @ 1st Baptist Church New Berlin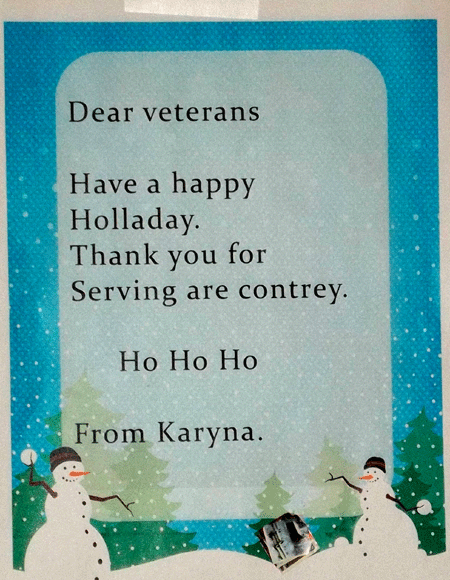 Thanks Lisa Mazurkiewicz
Senior Girl Scout Troop 4014 (Freshmen at Muskego High School)
Junior Girl Scout Troop 2006 (5th Graders at Bay Lane Middle School)



Collecting Items For The 25th Annual Vets Christmas Show
Thanks Sharon Rakowski
Students - Teachers - Parents
Lakeview Elementary School - Wind Lake, Wisconsin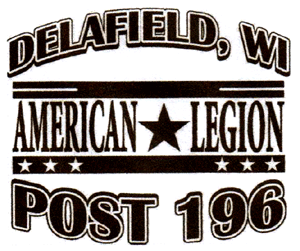 Delafield American Legion Post 196 Family
POST MEMBERS / LADIES AUXILIARY / SAL SQUARDRON
The true spirit of helping our Veterans
"Very Proud Of All Of You"
Thank You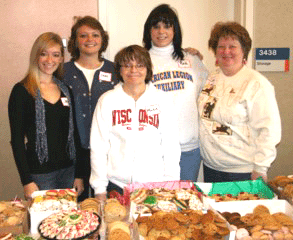 Community Outreach Committee

1st Weber Group & Friends - Brookfield,WI.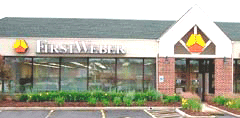 Renees Desserts From The Heart - Thiensville